os•su•ar•y (OS-oo-er-ee) n

Definition:
a place where the bones of the dead are deposited; a charnel house

Related:
Synonyms: casket, coffin, charnel house
Related Words: osseous, ossify

Sentence Examples:
• In the middle, an open ossuary contains skeletons that have been exhumed in order to make room for other corpses. Who has said: "Life is a hostelry, and the grave is our home?" But these corpses do not remain in their graves, for they are only tenants and are ejected at the expiration of the lease. -Over Strand and Field, Gustave Flaubert, 1904

• Here and there amid this enormous game of knucklebones there could be traced the imaginary ruins of medieval cities with forts and dungeons, pepper-box turrets, and machicolated towers. And in truth these Bad Lands are an immense ossuary where lie bleaching in the sun myriads of fragments of pachyderms, chelonians, and even, some would have us believe, fossil men, overwhelmed by unknown cataclysms ages and ages ago. -Robur the Conqueror, Jules Verne, 1886

• While the old hut-man was lamenting and adding another chapter to the horrors of the mountain, hoping for fresh ossuary relics for his charnel glass-case, the Swedish youth and his guides, who had returned from their expedition, set off in search of the hapless Tartarin with ropes, ladders, in short a whole life-saving outfit, alas! unavailing... -Tartarin On The Alps, Alphonse Daudet, 1887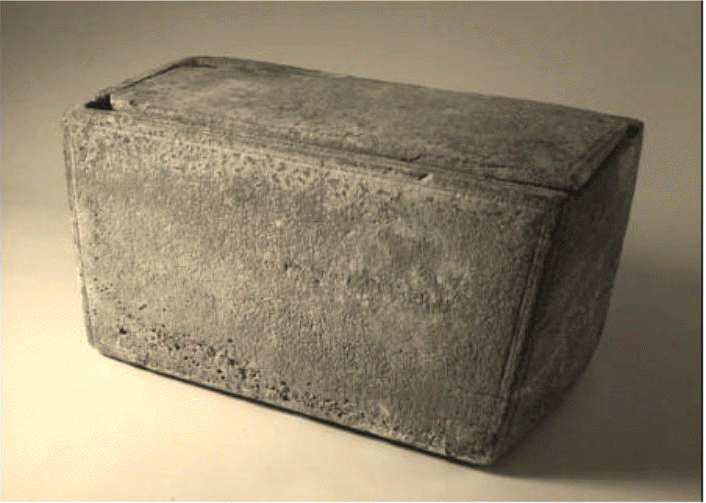 The Ossuary of James
The Sedlec Ossuary in the Czech Republic
The Storyline
"Your brother just got back from Israel. He and his research assistant where there to examine the Ossuary of James," she started without so much as a how-are-you.
Origin:
1658, "an urn for the bones of the dead," from L.L.
ossuarium
"charnel house," from L.
os
"bone"
Sources:
Webster's 1913 Dictionary
,
Online Etymology
Why This Word:
To get down to the bone of the matter, as opposed to a casket or coffin, an ossuary is a building, room or receptacle for the storage of bones not bodies - perhaps in mass or perhaps after putting the body out
to decay naturally on a stone "table" and then collecting the remaining bones
.
They are frequently used where burial space is scarce. A body is first buried in a temporary grave, then after some years the skeletal remains are removed and placed in an ossuary.
The use of an ossuary would just seem bizarre to us today in the West, a relic of more "primitive" times. We prefer a more sanitized approach. We lay out our dead all decked out and made-up to seem alive, in satin-lined and very expensive boxes. Our answer to the shortage of space for individual burials is cremation. But an ossuary in some form or another would make perfect sense over much of the span of human history.
Word-E: A Word-A-Day